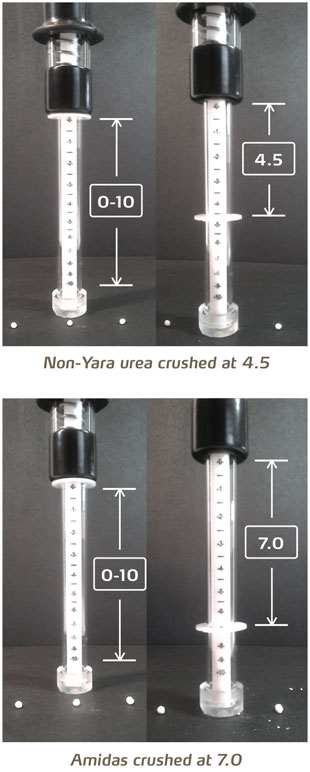 YaraVera® AMIDAS Urea is hard, homogeneous and provides no segregation.
---
YaraVera® AMIDAS is harder than many other fertilizers.
Storing and handling of fertilizers can result in a breakdown of particles due to crushing. Harder fertilizers, such as YaraVera® AMIDAS, have fewer broken granules, produce less dust and provide more uniform spreading.
In a demonstration, non-Yara urea crushed at just 4.5 kilograms of pressure. YaraVera® AMIDAS is much stronger, withstanding 7 kilograms of pressure before crushing. The result is a product that maintains a more uniform particle size all the way through to spreading on the crop. Fertilizer granules with a crushing strength of <3 should not even be used with spinner speeds >700 rpm.
Product

Density

Lbs/cu. ft.

Typical Hardness

Kg
Ammonium sulphate
47-66
1.5-2.5
Ammonium nitrate
54-58
1.2-1.7
Urea, prilled
46-48
0.8-1.2
Urea, granular
46-48
1.5-3.5
DAP
55-60
3.0-5.0
MAP
60-65
2.0-3.0
KCl
58-65
3.0-5.0
K2SO4
70-75
3.0-4.0
Amidas
48-50
5.5-6.5
Properties of YaraVera® Amidas

YaraVera® Amidas has 40% nitrogen and 5.5% sulphur in the same granule. It's totally water soluble and very uniform in granule size. It is a truly homogeneous product that ensures uniformity of application.
Molten urea and ammonium sulphate are combined during manufacturing resulting in a homogeneous granule.
Get Price quote on YaraVera® AMIDAS in your mailbox!
Contact us and we will send you pricing on YaraVera® AMIDAS.
YaraVera® Amidas is unique in its production process.
The ammonium nitrogen and sulphate sulphur are immediately available to plants. YaraVera® Amidas has an ideal N:S ratio of 7.3:1, which is ideal for most crops.