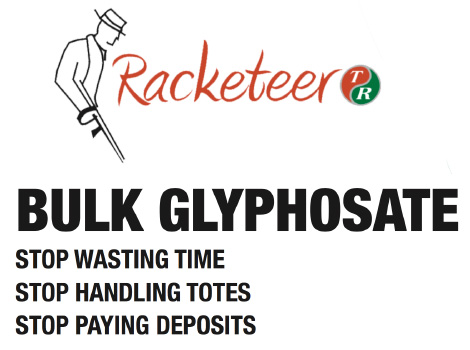 The Racketeer Bulk Glyphosate Handling System comes with two choices of tank sizes: 8000 L or the 22,000 L - "BIG GUY"
Each tank is fitted with a pump and metered flow system to allow for quick and efficient use of bulk glyphosate right on your farm. br>
Tanks come with a powerful pump and valves that maintain security while providing quick and efficient performance
Choose the pod or fitting that best suits your farming operation to come with the tank
Each tank is constructed to meet stringent environmental storage requirements: br>
Double walled to prevent leaks
Top filled to maintain tank integrity
Patented plastic liner with fill well to prevent spills when filling
No-Drip dry lock connection to prevent spills when filling totes
Locks and seals on all access points to the system to increase security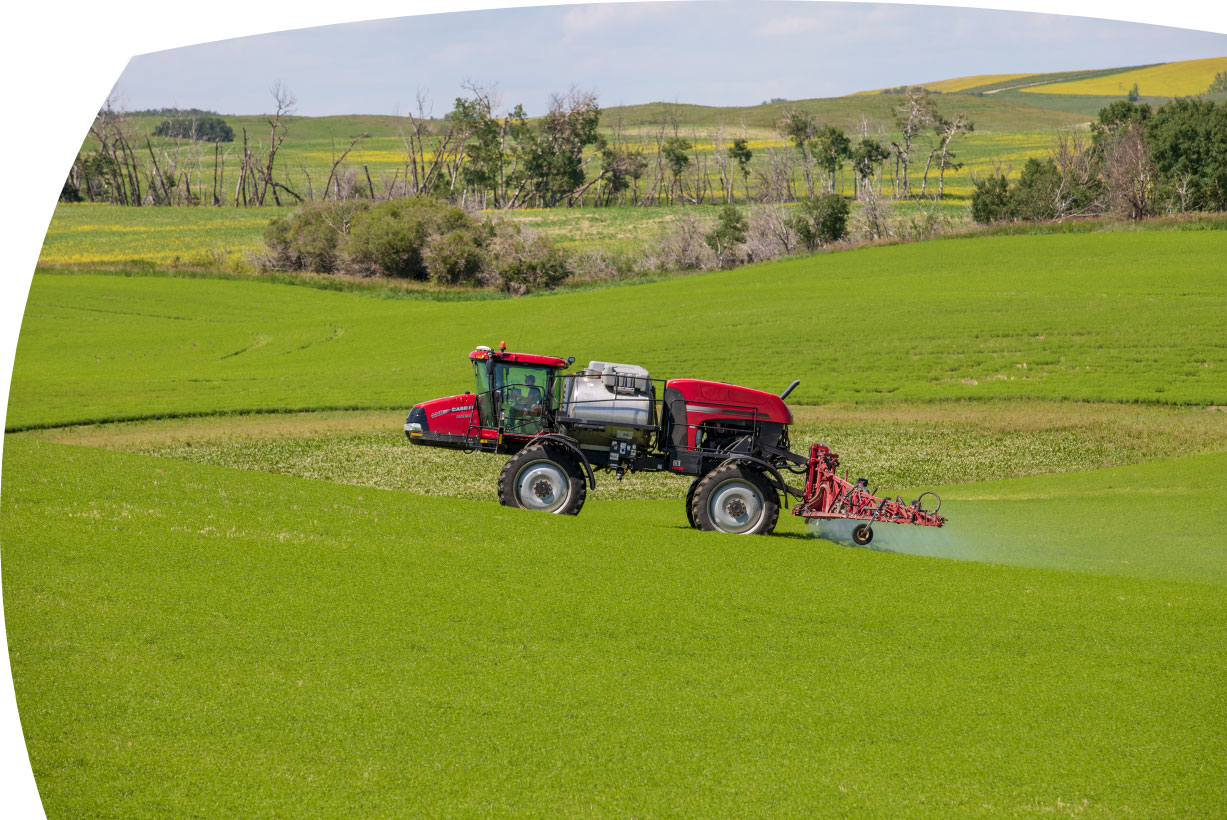 Never leave the yard with a half empty tote again!
The advanced pumping system can fill a 450 L tote in 3 minutes! The Racketeer system eliminates the hassle of handling and storing multiple totes of glyphosate.
Eliminate tote storage & handling
Stop paying expensive deposit fees
Save time and money
Increase your efficiency
North American Glyphosate
Highest performing formulation available
Available across Western Canada
Bulk Glyphosate on your Farm!
---
Racketeer is a new way to handle glyphosate.
Racketeer is a new way to safely and efficiently handle glyphosate on your farm. The product is delivered direct to your farm and is stored in the provided 8,000 litre storage tank. Never handle another bulky tote of Glyphosate again with the Racketeer Bulk Glyphosate Handling System.
Handle your glyphosate with:
Less freight

Less handling

More convenience

No totes!
The RacketeerTM Bulk Glyphosate Handling System consists of a fully contained, 8000 L tank fitted with a pump and metered flow system to allow for quick and efficient use of bulk glyphosate right on your farm.
Get Price on Racketeer in your mailbox!
---
Each RacketeerTM tank is designed to meet today's stringent environmental storage requirements:
Double walled to prevent leaks

Top filled to maintain tank integrity

Patented plastic liner with fill well to prevent spills when filling

No drip dry lock connection to prevent spills when filling pods

Locks and seals on all access points to the system
Rack Petroleum only supplies North American produced glyphosate for use in the Racketeer system. Racketeer is a North American produced, 360g/L glyphosate formulated as an IPA salt.
For more information on Racketeer or to order Glyphosate Racketeer storage tanks, please fill out the following online form using secure server connection: Order Glyphosate Now